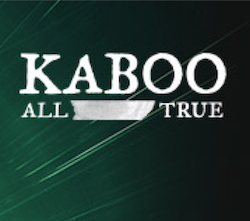 It's Monday again and we have a brand new week in front of us. Hopefully this week will be filled with sweet offers for online casinos. On our site we focus on offers with free spins and no deposit bonuses. One popular online casino that offers these types of bonuses today is Kaboo. Kaboo is an innovative online casino that was founded last year. Players at this casino can experience much more than just playing on slots. When you join Kaboo you enter a whole new world filled with adventures, missions and rewards. Kaboo even have it's own free spins currency called Echoes. And the best part is that all echoes are free from wagering requirements.
Monday promo with free spins
During the day all players at Kaboo can claim echoes in the casino. These echoes can be used in the Echoes Exchange where you can trade them into free spins on different slots. To claim your echoes at Kaboo you simply have to make a minimum deposit of €20 today. When this is done you will be rewarded with 10 echoes that can be exchanged to 10 free spins that are valid for you on two different slots. One of these slots is Guns n Roses which is the latest game from the popular provider Netentertainment. The other slot is Glow which is another popular game from Netent. Remember that all spins are wagering free so anything you win you can also withdrawl.
Big Winner and New Games
In addition to all promotions that are running at Kaboo right now there are other exciting things happening. Last week there was a big win paid out in the casino. A Norwegian player won no less than €32 000 in the popular online slot Stolen Stones from Netent. Maybe the best way to start February, hu? And this is just one of the big wins that have been paid out during the launch of Kaboo. Maybe you will be next in line to get a big win at this casino. The possibilities of this is high when Kaboo is releasing no less than two new slots this week. On Thursday Kaboo will launch Master of Mystery which is the new game from Netentertainment. And on the same day IGT's new game Hot Rolls Super Times Pay will be available in the casino.
10 Echoes for free
If you don't have an account at Kaboo you can easily get one today. New players from UK, Sweden, Finland and Norway will get 10 echoes for free upon sign up this month. On top of this players from all markets gets 100 echoes (which can be exchanged into 100 free spins ) upon first deposit. This on top of an amazing welcome bonus of 100% up to €200. As a member you will also be rewarded with echoes when you complete different missions in the casino adventure.
---
Andra inlägg