Guts casino is looking to give its players a fresh experience, and this not only comes as a sparkling promotion, but also brand new games. NetEnt's new Emoji Planet video slot game has already stirred a storm and thousands of players are already enjoying the game. It is the first mobile-first slot game so you can be assured that you'd have a fantastic time playing it on your phone or tab.
Well, what if you could play the game on one of the best devices there is? Think you'd enjoy the game better on an iPhone 8? That's what Guts casino is offering in the Mobile Madness promo.
How the promotion works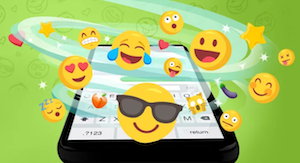 The challenge is made up of 30 levels and completing each level earns you free spins that you can use either on your mobile handset or desktop. The catch is simple, all you've got to do is complete level 1, and you'll be entered into the weekly draw of winning the long-awaited iPhone 8. The promotion runs for 4 weeks, so completing level one in the first week gives you 4 chances of winning yourself the iPhone 8. The weekly draws take place every Fridays and the winners will have their names on the leadership boards at Gut's site.
Promotion dates
The promotion runs for a full month from 24th August to the 24th September and all you have to do is opt-in then start playing your favourite games.
Progress bar
During the promotion, a bar on the screen is available for the players to track their progress. This progress bar increments every time you make a wager, and you'll get to choose your prefered free spins whenever it fills up.
To get further and faster in your progression, go for games under "Video Slots'' and "Other Games" categories. These games will give you the most progression followed by the "Classic Slots" games which contribute 25% less. The least contributors are the "Live Dealer" games which only progress your bar 5%-10% of what the Video Slots will.
There's also a daily boost button to assist you with your progression throughout the game. A boost button appears every 24 hours where you get your progress bar incremented just by clicking the button. There's also a daily bonus offer whenever you click on the boost button, and the best part is, all free spins and bonuses you get in this promotion are not limited to any wagering requirements so you won't have any problems in withdrawing funds earned.
Extra prize
If you're not the kind of person who operates on chance, then you're in luck. All you have to do is complete all the 30 levels as first and you'll earn yourself the iPhone 8.
Remember, the promotion is only available to members that are signed up and made deposits at Guts.
However, that doesn't mean that you won't get a chance if you're not signed up. Simply create an account, make a deposit and opt  into the promotion. You'll also be eligible for the free welcome bonus of 10 spins and a £300 offer.
---
Andra inlägg