Are you an adrenaline junkie or a sucker for all matters speed? If yes, then the Rizk Race is definitely your kind of sport. Following its metamorphosis over the past few weeks, Rizk race is debuting its comeback version which is more of a drag race as opposed to the previous week long Le Mans version of its predecessor. It's now even simpler and better as players are given a set amount of time to play with a given number of predetermined spins upon which the player with the most points at the end is declared the de facto winner. Surprisingly, one gets to bag and walk home with a couple of awesome wager-free prizes at the end of the races.
Enlist with the Rizk race for a chance to join other like-minded gamers in the quest to go home with tremendous prizes. Simply head over to the Rizk Casino homepage and click on the Rizk Race page on the left or better still click on the Rizk Race logo on the right of the Games Window.
How Rizk new casino race works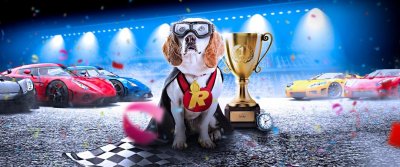 Up on the play board are two variants of the Rizk Races: the main races and the all-day races. There are two main races that run on a specified game indicated on the Races page when you join the races. The first main race commences at 19:00 CET with a first prize of £500 and the second one, starts at 21:00 CET. Here the champion garners a first prize of £1000. Magnificent, isn't it? Moreover, apart from double chance to participate in the 55-minute main races is the excellent opportunity to take off with amazing rewards ranging from free money, Free Spins and even Super Spins from the all-day Rizk Races. These races include all games except for table games, live casino games, 3 reel slots, video poker, Genii games and Castle Builder slot. Any slot games with either a "feature collect" mechanism or a "gamble" feature are also not included, where it is possible, post-game, to gamble your winnings from that spin. The extremely thrilling all day races happen every 30 minutes throughout the day and last 25 minutes. Every time is definitely Rizk Race o'clock at Rizk Casino. Set a 30 minute reminder and stay tuned to the Rizk Race page so as to be the winner of these stunning prizes.
Collect points during Rizk Race 2.0
For every win at the end of the race, you bag 10 points and for three consecutive wins in succession you earn 30 solid points. Three losses in a row amount to a deduction of 40 points and finally for big wins with a minimum of 10 times your original bet, a player earns up to 300 points. Points earned are displayed on the Leaderboard. Easy breezy, right? What are you waiting for? Grab your Rizk Race gear and let's get racing.
---
Andra inlägg