Accordning to the online casino SuperLenny this will be the best summer ever! And we have no doubt about this since SuperLenny just launched an amazing summer calender in the casino. This calendar is filled with daily offers that members can claim during this whole summer. During June, Jule and August there will be plenty of casino offers for you to claim and you will have the chance to get free spins, super spins, guaranteed prizes, free money and much more. And as you probably know already all the free spins that SuperLenny gives away are free from wagering requirements. These spins are called BUX and you can exchange these BUX into free rounds on several different slots from providers such as netent. You also have the chance to exchange your BUX into more valuable spins with better coin value. As you understand you just have to visit SuperLenny this summer if you want loads of rewards that can make you a true winner!
Secure your guaranteed prize today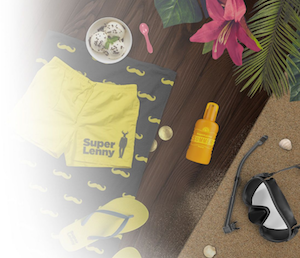 It's time for players to claim the forth offer in SuperLenny's calendar called Summer Bonanza. This offers contains a guaranteed prize that you can get if you make a deposit to Lenny of €/$/£20 or more during this Monday. You are then guaranteed at least 20 BUX that you are able to instantly exchange to 20 free spins on any slot you want in the BUX echanger. But if you are lucky you will get a more valuable prize and players that participate in today's campaign can win up to 500 BUX at SuperLenny! And remember that your free spins are wagering free so you are always able to cash out anything you win!
The next offer in the summer calendar is a cash raffle that will be running in SuperLenny's casino tomorrow. You can join this exciting raffle by making a deposit to SuperLenny of at least €/$/£20. Then you will get your ticket and the chance to win up to €/$/£1000 in real money! Wouldn't that be the perfect amount to have in your pocket this summer! The money will certainly open up for some bigger plans than the ones you already have for the summer 2017.
Spin it to Win it promotion
On Wednesday SuperLenny will run a campaign called Spin it to Win it. As the title witness this campaign is all about spinning on slot. When you do this during Wednesday you will be rewarded with BUX and in other words there are plenty of free spins to get in the casino! If you take this classic spin assignment you will first be rewarded with 15 BUX if you spin 100 times on slot. If you then continue to play and reaches 150 spins you will get additional 25 BUX. After that you can continue to spin until you reach 1000 times and you will instantly be rewarded with 100 BUX. So you can get a total of 140 BUX by just playing on your favourite games. One thing to keep in mind during this promotion is that only spins of at least 0.40 will count for the qualification.
Then on Thursday you just have to visit SuperLenny again! This day the casino is giving away mystery prizes and all players will have the chance to win cash prizes up to €/$/£1000. It's very easy to participate in the campaign as the only thing you need to do is deposit some money to the casino. And if you don't have an account at SuperLenny already you can sign up through our site and you will get an exclusive welcome offer with 10 free spins with no deposit required!
---
Andra inlägg