Ever wanted to go on a holiday with your loved on to Barcelona or Canary Islands? Barcelona city is perhaps the world's leading tourist and cultural center, well known for its art and architecture. Canary Island is also another awesome treat with temperatures averaging 22oC all through the year. The clear skies and amazing climate make it the best place to enjoy an outdoor holiday. You can go to one of these places without paying a cent.
Bgo casino, one of the most popular casinos out there, has decided to do it again - make a fantastic promo with unparalleled prizes. The casino is known for its hot prizes and philanthropic rewards; this time, it's no different. Things are getting even hotter. They've recently launched the Boss' Heatwave promo which requires one to simply opt in and start collecting points.
The prizes in the Heatwave campaign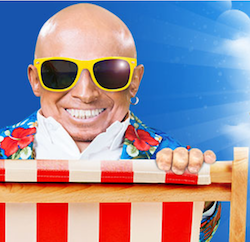 The heatwave prizes are numerous for the top 20 candidates, but perhap one of the most sought after reward is the 2 nights for two in Barcelona or Canary Islands. The promo was launched on August 14th and runs for two weeks till 27th August. Each of these weeks has got prizes up for grabs. The week one winner gets an all-expense paid ticket for two in Barcelona city, and the week two winner gets a holiday for two in Canary Islands.
There's also a prizepool of £2,500 up for grabs to the top 20 players. Prizes range from travel gadgets, amazon vouchers, cash and even free spins. Here's a complete breakdown:
1st prize: Holiday star prizes
Week 1 – 2 nights in Barcelona City for two
Week 2 – 2 nights in the Canary Islands for two
2nd prize: £200 in travel gadgets and tech
3rd prize: £100 voucher for Amazon.com
4th, 5th, 6th prize: Cash prizes ranging from £75, £50 and £25 respectively
7th – 20th prize: Free spins ranging from 25 to 100
There's more, if you win and get to first place but Barcelona or Canary Islands does not really float your boat, or perhaps you're too busy to travel, then there's a cash alternative option that you can take. That way, you'll be able to spend the cash however you see fit.
Start earning your tickets
The rules are pretty simple, all you've got to do is opt in and then collect points by playing the online games. For every £20 wagered, you're rewarded with one point towards the leadership board, and the more points you amass, the higher up the ladder you get. However, as with all other promos, there are some games that are excluded from this promotion so you may need to contact customer support or read the terms and conditions.
The winners will be announced on the following business day after the end of the promotion on each week, and whatever cash you earn is instantly withdrawable. Bonus funds wagered will also not count towards the promo. The promo is already on….so opt in and play your favourite games.
---
Andra inlägg