At the established online casino Unibet there is now a really interesting promotion running. Unibet has just released the new Microgaming slot Rabbit in the Hat and wants all their players to try this new slot. Therefor they are offering you up to 250 free spins on the slot. This upon a share of €20 000! The free spins are also free from wagering requirements and that's why Unibet are calling them "free cash spins". The promotion started a while ago but there are still two more days to participate and win free rounds. You can read all terms and condition about the promotion on Unibet's campaign site. Before you participate make sure that the offer is valid for your specific country.
250 free spins on Rabbit in the Hat
To get the free spins and participate in the campaign you first have to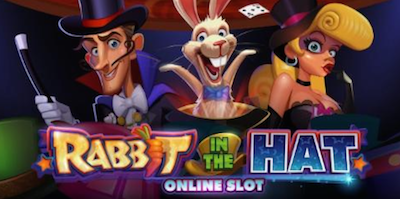 opt-in. You can do this on the campaign site by entering your username in the empty field. When this is done you are ready to play! To get free rounds you have to unlock certain achievements in Rabbit in the Hat. You can read about all achievements on the promotion page. All the achievements will open up a certain amount of free cash spins for you. If you unlock all the achievements you will receive all 250 free rounds! The spins will be paid out to your account on Thursday 23rd April by 6 pm and will be available for you during 7 days. Both new and excisting players can get this offer. Unibet's Rabbit in the Hat promo is running until the 22nd of April so make sure you unlock the achievements before that.
Get a share of €20 000
Not only are Unibet offering you hundreds of free spins on the new slot. Right now you can also get a share of €20 000! To be able to get your share of the prizepool you have to unlock the hardest "Target-achievement". All players that unlock this achievement during the promo will get an equel share of the €20 000. This is upon the 250 free rounds that you can get. Worth to mention is that only play for real money will count towards the promo. And you must have a minimum bet size of €0.09 per round. So if you want to try a new slot and win free spins and cash at the same time Unibet's promo is perfect for you!
---
Andra inlägg